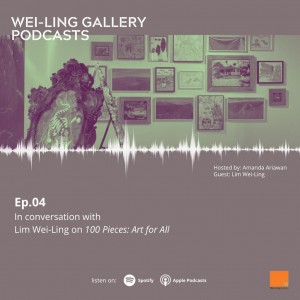 PODCAST NEW RELEASE
[100 Pieces: Art for All – Conversation with Lim Wei-Ling]
On this special episode, we spoke to Lim Wei-Ling about the exhibition '100 Pieces: Art for All', and her personal experience of collecting artworks. This exhibition is on view at Wei-Ling Contemporary until the 12th of May 2021.
The exhibition present 100 works by 28 established and up-coming artists. It serves a platform where those who are interested in starting to collect art, can begin. The exhibition also aims to reevaluate the misconception that art collecting is for the elite few. By offering artworks which start from RM 400, it hopes to make art collecting more accessible to the wider public.
Presenting works by internationally distinguished artists such as Yau Bee Ling, Michal Macků and Anurendra Jegadeva, 100 Pieces: Art for All advocates for artists with a constructed and developed practice, grounded in the variables of intellectual and imaginative inquiry. Each artwork is accompanied with narrative(s) involving personal identity, social relationships, different settings and physical realities.
Find out more by listening to this episode!
Available on available on Apple Podcasts and Spotify.
YOUTUBE [MALAYSIAN ART SERIES]
As an artist, Ivan Lam is known as a risk taker and innovator, as seen through his paintings. His practice is characterised by the pure physicality of his chromatically charged, resin-glazed canvases. However, other than painting, sculpture and performance art is an artistic skill that Ivan has developed over his extensive journey, pushing beyond the two-dimensional and into the three-dimensional lived spaces. Discover Ivan Lam's wide range of artistic practice through the second part of his Malaysian Art Series video.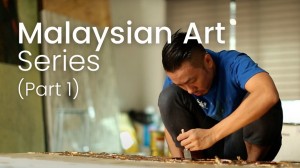 Ivan Lam has never ceased to grow, develop, innovate, take risks and evolve in his career as an artist. He moves ever forward, always with conviction and boldness and carries with him a determination and self confidence that no one can ignore. His work ranges from screen-printing, graphic design and typography, to painting, sculpture, mix-media and performance art. Journey through his artistic career through this retrospective video we have compiled! Stay tuned for Part 2 of the video.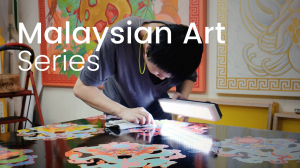 Having obtained his Diploma in Visual & Digital Arts from Limkokwing University College of Creative Technology in 2000, Sean Lean's work often deals with the issues of fragmented identities and the contradictions between traditional Eastern values and the lure of Western popular culture. Through his works, Lean branches out with his own history and personal memory and reflects on the events that have shaped his country and his region. He traces social, political, and religious tensions, disparities, and engages with stories that have shaped the collective memory of his region. Despite the seriousness of the issue, elements of humor often find their way into his practice.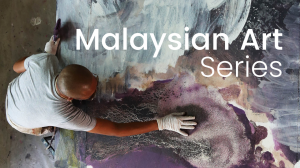 Hamidi Hadi is regarded as one of the most prominent abstract artists of his generation, and is well-known for his experimental and explorative use of material. Over the years, his practice has formally migrated from pictorial representation of the objective world, into abstraction and the synthesis of complex materials and methods, to describe his emotional and spiritual responses to the world. Hamidi Hadi's works are a constant experimentation and exploration of materials as he seeks to discover and capture the ephemeral and intangible.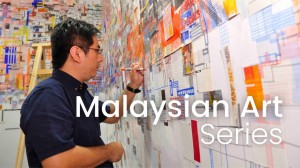 Born in Sungai Petani, Kedah, Choy Chun Wei has made a name for himself for his multiply layered collage work. He is a graduate of Central Saint Martin's School of Art and Design, London. He is a meticulous artist who executes each of his works painstakingly and takes the time to research and explore each medium before applying it on his work. This video, part of the Malaysian Art Series, sheds light onto Choy Chun Wei's unique artistic approach towards the evolution of our modern generation.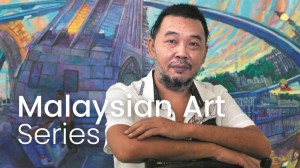 Chin Kong Yee (B. 1973) graduated from the Central Academy of Art in 1990. He has had an illustrious 25 year journey as an artist, which has seen him traverse the world for inspiration for his work. Chin Kong Yee's paintings display his continuous search to capture his own experience of a time and place. By combining the present, past and future through a depiction of two perspectives (realistic and unrealistic) his paintings have an exciting, dramatic edge about them that draws the viewer into his space.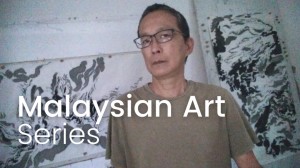 Vast, sweeping and meditative landscapes are what artist Chen Wei Meng (B. 1965, Terengganu) is perhaps most well known for. The new fruits of his hard work have taken shape in the form of 'Musang's Words' (2020), a solo exhibition featuring a collection of ink drawings inspired by the mountain structure of Gua Musang itself.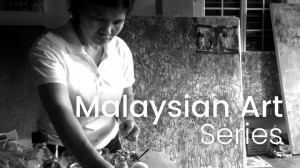 Yau Bee Ling's body of work came from different periods of her life that are immensely personal and meaningful. Bee Ling's practice has consistently been an extension of her life's journey, mimicking the twists and turns of a life lived. Throughout her 25-year career as an artist, each series has always been an evolution from her previous visual language.