WOLO Artists' Residency Program in Kuala Lumpur
In line with Wei-Ling Gallery and Wei-Ling Contemporary's objectives of introducing international art and artists to Malaysia, as a means to connect and bridge the gap between artists from Malaysia and the rest of the world, they have created the WOLO Artists' Residency Program in Kuala Lumpur.
The WOLO Artist's Residency Program is a collaboration between Wei-Ling Gallery and the WOLO Hotel. International artists within any discipline of practice (painting, photography, video, installation, light, sculpture etc.) are selected/ invited to live and work in the centre of Kuala Lumpur for two months.
The objective of the residency is for the selected artists to realise a community-based project that draws on the identity of Malaysia, which they will execute and complete during their stay in the city. During their stay, Malaysian artists will have the opportunity to interact and conduct studio visits with the Resident artists to allow for dialogues and exchanges to take place.
To date, the Residency which placed an open call to international artists from around the world has received over 60 applications for the program. For 2015, the first group of artists will arrive in Kuala Lumpur in January and will stay through to March.
The WOLO Artist's Residency only offers 6 international artists the opportunity to live and work in KL over the course of the year.
The artist invited to initiate the WOLO artist residency programme is Dr Hedley Roberts (b. 1972) an artist and a Professor at the University of East London.
Dr Roberts undertook his Bachelor of Arts at Central Saint Martins College of Art and his Masters of Art at the Royal College of Art. Dr Roberts has lived and worked in London for over 20 years as an artist and is the Head of Art and Design at the University of East London. He is a Royal College of Art Fellow and a Stanley Picker Fellow, a Senior Fellow of the Higher Education Academy UK, and serves on the Executive Committee of the Council for Higher Education in Art and Design, UK. In 2012 he received his Doctorate in 2012 for his project "Love and Other Stories; kissing, inbetweenness and mutual give and take" from the University of East London.
Dr Roberts is predominantly a painter, but also makes prints and digital installation. Since 2012 has worked almost exclusively on a square format with the majority of his works created on 50 x 50 cm panels. His work usually features portraits of characters either looking out at the viewer or engaged in amorous encounters with each other. His portraits often begin from images of people he knows intimately; friends, family, colleagues, past loves. These are then transformed through his working process to conceal or reveal a psychological tension in their relationship to the viewer or each other. He says his work considers our human need to connect, to mirror, to fit, to blend, merge with or wed another, and reflects on our lost moments of desire, on love lost or love lamented. For the WOLO artist residency, Dr Roberts is producing a series of oil paintings onto aluminium polycarbonate panel that are responses to people he meets in and around the central area of Bukit Bintang in Kuala Lumpur.
Dr Roberts' recent exhibitions include Herrick Gallery London, Factual Nonsense at the Red Gallery London and Ozone Gallery Belgrade Serbia. He has also presented work at ISEA Nagoya and Superdeluxe in Tokyo Japan, the Imperial War Museum London and Victoria and Albert Museum London. Dr Roberts is Director of 'Directional Forces', an annual artist residency project near Dusselldorf in Germany. In 2013 Directional Forces curated 'Colony 55' at SaLe Docks Venice during the 55th Venice Biennial.
"I feel incredibly privileged to be nominated by the Wei-Ling Gallery to be the first artist to undertake the WOLO international artist residency programme. This unique partnership between WOLO and the Kuala Lumpur art scene generates real opportunities for creative dialogue between the Malaysian arts community and the international arts community by locating the selected artist directly into a contemporary arts scene that is finding its voice in the global art world, thanks to the efforts of WOLO, Wei-Ling and her contemporaries. To be situated in such a comfortable hotel environment with a substantial studio facility in the heart of Kuala Lumpur is a real gift that any artist would benefit from. However, what makes this residency really special is the relationship between the Wei-Ling Gallery and WOLO. I've known and worked with Wei-Ling since 2007 when I led an MA in International Contemporary Art & Design Practice for the Limkokwing University of Creative Technology and the University of East London, and Wei-Ling was working with Ivan Lam, one of the artists studying on the course. Over the past 7 years I have visited Malaysia 15 times, and now consider Malaysia to be my second home outside London. During this period I have witnessed the Wei-Ling Gallery's expansion from Brickfields to the Gardens Mall to the E&O Hotel in Penang, and onto the International Art Scene at Hong Kong Basel 2013 and 2014. It's a real achievement. So what keeps bringing me back to Malaysia? For me, it is the dialogue that takes place between all the aspects of what makes up Malaysia. It's the conversation about ideals between youth and tradition, modesty and boldness, old and new, between the fast pace of the growth in Kuala Lumpur and the slowness of rural life in the Kampung. It's difference of opinion on the best food, the best laksa, the best nasi lemak, or the best new technology. It's the dialogue between diversity of race, religion and tradition under one Malaysian nationhood that brings a cultural wealth that positions Malaysia as a first destination gateway to South East Asia. As an artist, curator and director of my own residency programme, I can immediately see that the WOLO artist residency provides a world class opportunity for international artists to apply for a substantial period of creative investigation into the rich diversity and heritage of Malaysian culture. It's my understanding that the international call for candidates has been overwhelmingly successful, with applications from Asia, East Asia, North America, Europe, Eastern Europe and the Middle East. Personally, I'm hoping that my own dialogue with Wei-Ling, WOLO and the Malaysian arts scene continues long after my residency, perhaps with a showcase of contemporary British art in Kuala Lumpur in the not too distant future!"
– Dr Hedley Roberts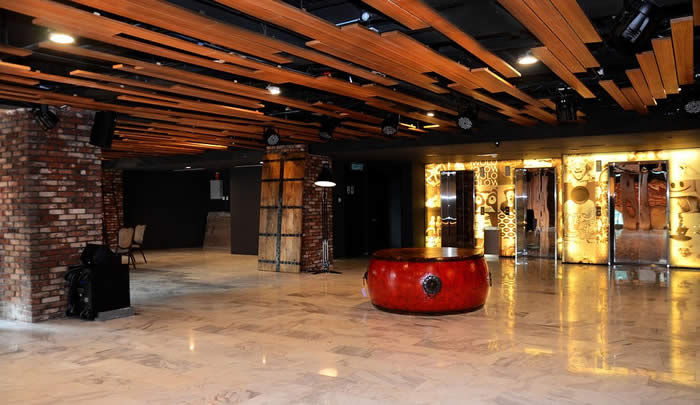 ABOUT WOLO
Located within Kuala Lumpur's Golden Triangle, the centre of Malaysia's shopping and business district, the new WOLO Bukit Bintang puts you on the pulse of the country's best shopping, dining and entertainment experiences. This boutique hotel embodies the exuberance and energy of the city, drawing on Kuala Lumpur's rich heritage of culture, artistry and diversity to bring to life a breathtaking tapestry of contemporary influences seamlessly entwined with the area's historic charm.
Escape the hustle and bustle of the metropolis outside into a stylish, charming and sometimes quirky space where everything is designed with your happiness in mind. Enthusiastic service, engaging interiors and modern lifestyle offerings including a workout room and a Wine & Cigar lounge are bound to put you at ease – and bring about a feeling of wonder and well-being.
WOLO Bukit Bintang and the WOLO brand of boutique hotels belong to the Mammoth Empire family, which previously developed Empire Subang, Empire Damansara, The Ara Bangsar and My80 Melbourne, amongst others. WOLO is the group's latest venture into the hospitality business, designed to capture the charm and personality of its geographic surroundings to create a uniquely engaging experience that seamlessly integrates world-class quality with localised artistry and energy.
The WOLO Bukit Bintang Hotel is located at the corner of Jalan Bukit Bintang and Jalan Sultan Ismail, 55100, Kuala Lumpur, Malaysia.
Please call 03-22601106 or email woloresidency@gmail.com for more information.
You may also visit the WOLO Artist Residency website at www.wolo-artist-residency.com
Wei-Ling Gallery
No 8, Jalan Scott, Brickfields,
50470, Kuala Lumpur, Malaysia.
T: +603 2260 1106 F: +603 2260 1107
E weiling@weiling-gallery.com
W www.weiling-gallery.com
Opening hours:-
Monday: 10am-6pm
Tuesday-Friday: 10am-7pm
Saturday: 10am-5pm
Wei-Ling Contemporary
RT01, 6th Floor, The Gardens Mall, Mid Valley City,
Linkaran Syed Putra, 59200 Kuala Lumpur
T: +603 2282 8323 F: +603 2260 1107
Opening hours: 10am-9pm Daily
Wei-Ling Gallery @ Victory Annexe
Eastern & Oriental Hotel, 10 Lebuh Farquhar,
10200 Penang, Malaysia
T: +604 2613 691 F: +603 2260 1107
Opening hours: 11.30am-7pm from Tuesday-Friday, closed on Mondays.
Images from previous WOLO closing exhibitions