New Straits Times, 10 April 2010
Art: Face to face
by Vimala Seneviratne
Six Malaysian artists in an exhibition called Heads Up draw inspiration from the enchantment of the human face, writes Vimala Seneviratne.
Contemporary artist Marvin Chan Yew Soon has a fascination for faces.
"Every day we meet people going about their lives, doing very ordinary things, but each harbouring life experiences and emotions that are in fact a story summarised on their faces.
"That's what portrait painting is all about.
A subtle communication of expressions on the face," says the KL born and bred Chan.
He is among six artists whose portrait paintings are on display at Wei Ling Gallery in Brickfields, Kuala Lumpur.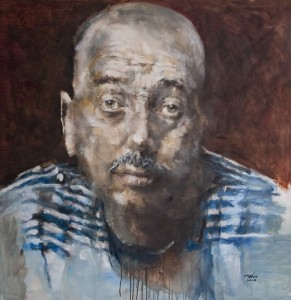 The exhibition, entitled Heads Up, also features works by Chong Choon Woon, Ng Bee, Kim Ng, Mohammad Al-Khuzairie Ali and Chee Eng Hong.
Using bold strokes, Chan's subjects are those he meets on a regular basis, people who have made a strong impression on him.
"This one here," he says pointing to a portrait of a man with a broad smile, "is my barber Suguman, and the other person is his assistant Prakash.
It's one of the rare occasions when they smile as most of the time they are arguing about what hairstyle suits me."
There is also the wantan noodle seller Ah Fatt and his wife, the DVD seller Ah Hou as well as others he meets at cafes and coffeeshops.
"They are all ordinary people who are beautiful and through my paintings I have tried to capture their emotions, their true spirit.," says the 39-year-old self-taught artist who found his calling only six years ago, after having spent 14 years in the advertising industry.
"I have always had a passion for painting and I guess I finally found the courage to make the switch."
Chan who had his first solo exhibition three years ago in Penang, is a recipient of the Freeman Fellowship 2010 where he will be attached to an arts school in Vermont, USA, for one month.
While Chan captures the natural expression of his subject's face, Chee Eng Hong prefers the abstract approach – distorted and exaggerated facial expressions.
"I like to portray the good and the ugly, the dark and the beautiful sides in people, their true self.
Sometimes the images are disturbing as they don't conform to the norm."
Taiping-born Chee has been painting for more than 10 years using oils, watercolour, charcoal, pencil, pen and ink, pastel and mixed media.
However, he took to portrait painting two years ago.
"There's something romantic about portrait painting which is an old art form.
A well-painted portrait would show the inner qualities of the person.
But as an artist I don't want to be limited to painting the contours of a face and limbs of the subject.
I like the abstract approach," says the father of two.
Chee worked as a commercial artist and set designer for advertising firms and production houses before venturing out on his own.
He has held several solo and group exhibitions throughout the country and some of his artworks are on permanent display at the Galeri Petronas in Kuala Lumpur.
For art lecturer Chong Choon Woon, 38, who lived in Nanjing, China for more than 15 years before returning to Malaysia recently, bewildering images of people cross his mind whenever he wanders through bustling streets.
"I am usually in deep thought over how to resolve the colours, the facial expressions into a painting.
Art allows me the freedom to interpret what I see and capture it on canvas."
One of his paintings is a portrait of a fellow artist in Nanjing.
"He had the most soulful eyes and I felt I just had to capture them on canvas," says Chong, who from an early age was inspired by the French Impressionists.
However, his primary influence was the Swiss Surrealist sculptor and painter Alberto Giocametti.
Chong also paints landscapes and city skylines, often experimenting with new techniques.
His paintings have been exhibited widely in key galleries in Malaysia, Taiwan and China.
He is keen to share his knowledge on art with Malaysians and teamed up with Wei Ling Gallery to conduct a series of short art courses ( fundamentals of drawing and painting) for adults.
• Heads Up exhibition ends on April 28.
Wei Ling Galley is at 8, Jalan Scott, Off Jalan Tun Sambanthan, Kuala Lumpur.
Gallery is open Mon-Sat, Free admission.