The Edge, 7 February 2011
Art of Feng Shui
by Elaine Lau
Best known for his tongue-in-cheek art, emerging artist Munkao's new series explores this ancient aesthetic system, but with a contemporary twist.
Emerging artist Munkao is as eccentric as the artworks that he creates, if not more so. So it is difficult, if not impossible, to understand what lies beneath his veneer of goofiness. What is clear is that his works are attention-grabbers, not unlike his own personality.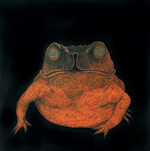 Take the paintings he did for the two-man show, Natural, at The Annexe Gallery in 2009. The artworks challenged the notion of what we know as "natural" — wolves were given human legs and clad in football socks and boots, and instead of a swishy tail on a goldfish were fishnet stocking-clad legs.
Then in the 2010 series, Diaspora Anxiety, Munkao cleverly uses elements from pop culture such as Star Wars characters C3P0, R2D2 and chubaka, and others like Ultraman to comment on Asia's changing geopolitical realities. Munkao is also a member of The Best Art Show in the Univers art collective, which is known for its highly original, funny and satirical art projects.
Tongue-in-cheek humour undergirds this 29-year-old's artistic language and once you meet him, you will see why — just as many of his works have an element of irreverence to them, so does he. His flippant facetiousness is at times charming, but at others, downright annoying.
For instance, any attempt to extract information on his background and how he came to pursue art is met with comments like, "Focus on the present la, don't talk about the past — so boring."
And all this said with a cheeky grin, which was present on his face throughout the interview. The little that I did manage to find out about him? His passions are drawing and money — "Chinese family mah", he points out in reference to the latter. He spent most of his schooling years in Singapore and returned to KL to attend a local art college, which only lasted for six months, and then dabbled in business studies. "Youthful rebellion," he says of that period.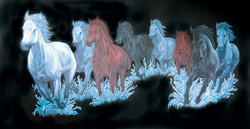 The "present" that Munkao refers to is his debut solo exhibition, Feng Shui, which will be on view at Wei Ling Gallery from Feb 10. The 13 works of "painstallations", prosperity sculptures and neo-auspicious landscapes showcase Munkao's illustrative and conceptual prowess in creating emotionally stirring and aesthetically pleasing works of art that draw upon the popular repertoire of Chinese symbolism — numbers, animals and landscapes. The show will be curated by feng shui master Chang Kim Hua of TDR Geomancy Sdn Bhd.
Munkao offers this tidbit on why he chose to explore this subject matter, claiming that his life had been dictated by feng shui. "When I was eight, a feng shui fortune teller told me I would be an artist," he says. "This series pays homage to that feng shui fortune teller. This is also a result of an eight-year residency programme with my parents. I learnt a lot of things from them about feng shui."
Munkao talks about what he found interesting in his research on feng shui. "There's this part where it says you'll feel like it as long as you feel right. There's this whole idea about something placed in a way, say, a chair with its angles pointed at you, and you don't feel good, and that's the bad thing. The point is there's an arbitrariness yet very emotional aspect, and there's this set of rules and guidelines. I try to go with that, along with the inspiration from iconographies and methodologies of existing feng shui items."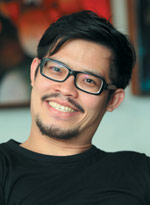 "What I've done is, for each piece I may have my concepts but what the feng shui master is going to do is look at a piece and reverse-conceptualise it — give his own concept to it. Also, he will be curating the space it will be placed."
Seven of the works are "painstallations" — "They are installations that behave like paintings," says Munkao — with depictions of animals such as horses, three-legged toads, koi fish and bats. Each piece has a mechanism attached to it that enables a sort of animation, such as the eyes of the toad lighting up when someone draws near, or the fish jumping in the waterfall, or the horse galloping. Munkao created these mechanisms with another artist, chi too.
Three are prosperity sculptures, one of which is a device that generates lucky numbers, run by a feng shui algorithm programme that Munkao wrote with his engineer girlfriend. The last three works are auspicious neo-landscapes, which he describes as digitally manipulated "Google Earth Chinese landscape paintings".
Munkao calls these works "tech art" and cites the movie Avatar as having inspired his foray into this genre, his first time doing so. His sentiments on this, his debut solo show? "I feel really ecstatic about the show and, at the same time, grieved inside for the whales that are killed in Japan," he says, seemingly in all seriousness. He hopes the works will "help the Sea Shepherd in spirit … because killing whales is cruel".
Er, right.