The Edge, 27 April 2009
Cover Story: Yau Bee Ling
by Anandhi Gopinath
Where some artists are seen as complicated and complex individuals, there is something refreshingly simple about Yau Bee Ling. Dressed in white T-shirt and black trousers, she looks fresh and lively despite having an early start to the day — she had to wake and dress her two-year-old son, Zachary, and drop him off with a friend before coming to the shoot. Half an hour early, I might add.
Her smooth, milky complexion glows without any make-up, and her thick bob, marked with a single mischievous strawberry blonde highlight, looks like it's already been styled. Her easy smile is her only accessory, and everyone immediately feels comfortable in her presence — there is something motherly and affectionate about her too.
Bee Ling's artwork is vastly different from her personality, however, as it bears a Salvador Dali-like whimsical approach to it. She is generous in her use of colour, and one would associate her work with someone flamboyant and loud. However, she is a reserved person, and comes across as unruffled and completely in control.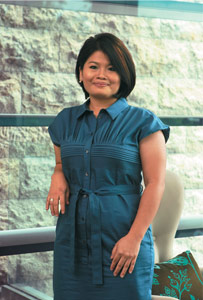 Her approach to her profession is very philosophical, and is touching in its honesty and simplicity. "The biggest philosophy of life is to get along with people around you… I'm still learning to do this. Being an artist is a fortunate career for me. I love that I can discover myself with what I'm doing. And I can do this everyday," she says.
Bee Ling credits her artistic inclinations to her happy childhood, spent in a village in Port Klang, Selangor. "I like to observe people and look at things from different perspectives. I always knew there was something I was searching for. I had that freedom to dream as a child. I found my calling as an artist as I was searching for those answers. I suppose, in school, you could already tell which direction I was headed. I loved doodling, I loved drawing, and I hated physics and science. My physics books were full of doodles and drawings all over the place," she reminisces with a smile.
She went on to study fine art at the Malaysian Institute of Art, where she met her artist husband, Choy Chun Wei. They went on to live a boho life of painting, attending residencies and further exploring their creative geniuses. In that time, Bee Ling kept painting and exhibiting her works. She was the Malaysian representative at the 9th Asian Art Biennale in Dhaka, Bangladesh in 1999, and the following year, was selected by the renowned regional curator T K Sabapathy to exhibit her works at Singapore Sculpture Square.
In 2004, Bee Ling also made it to the Hokkaido Museum of Contemporary Art in Japan as part of the Soul of Asia: Fukuoka Asian Art Museum Collection. In 2006, she participated in the Malaysian-Australian Artist-in-Residence programme at Rimbun Dahan in Kuang, Selangor. Her work today is part of a permanent collection in the Fukuoka Museum. She has also participated in many WWF-related exhibitions, and last year alone brought her work for exhibition in London and Liverpool in England, and to Singapore.
Over the years, her art continued to develop not just from a creative perspective, but also in terms of its application. When she happened to hear about using art as therapy for autistic children, she tried it with a niece of hers who had mild autism and suffered from attention deficit disorder (ADD). The change she saw in the young girl was quite amazing, so Bee Ling started offering art classes for other autistic children.
"I love to work with these children, it's a huge interest for me. This world is very verbal, so with this group of people who don't use words, life is not easy. Art helps these children communicate in ways that don't require words, so that gives them a way to deal with the universe. Teaching them has helped me too, it has taught me not to take life for granted and I see things differently as well. The way a flower looks in a vase, the way the wind moves and blows — autistic children see all these differently and it has shaped my perspectives too and made me evolve as an artist," she says.
The birth of Zachary two years ago also registered a huge change in Bee Ling's life and creative processes. "Bringing a child into the world humbles you. Makes you respect nature more, makes you think about the world differently. Before the baby came, my art was very rich, very crowded, lots of techniques… now, I tend to be more focused on a single element. I have to be focused on playing one role at a time since Zachary was born, so that's affected my art in that it is more focused as well," she says.
"My work has always been a little autobiographic, so the joy that Zachary has brought me comes across in my work, which I think is more cheerful and has stronger colours in it. I am disciplined by nature, but now I have to be really careful about the planning — my life revolves around my baby these days," she adds.
As a full-time artist and mum, Bee Ling doesn't have much time or occasion to "dress-up" — a dress and high heels is a lot of work for the kind of daily schedule that she tends to keep. "Once you have to carry a baby all the time, you can forget about high heels," she jokes. "Everything is about convenience and comfort these days. One hand carries a haversack, the other hand carries the baby — that's not very glamorous. I just stopped breastfeeding a few months ago, so my figure is really all over the place."
We decided to pick a classic, elegant style for Bee Ling with a shirt-dress from Hugo Boss Women. She had confided to us that she loved colours and worked well with it on her canvas, but lacked the confidence to wear it herself. So, we chose a pleasant, cheerful shade of ocean blue, giving her a dash of vibrant colour while remaining subtle. The streamlined silhouette did wonders for Bee Ling's curvy, petite figure, and the detailing on the chest was something she liked as well.
"Yes, I love what you picked out, and I love how I look," she gushes, the transformation from artist-mother to casual chic complete. "I may not have picked it out on my own, but it's definitely something I would wear again. Maybe, I will go look for styles like this from now on."
This article appeared in Options, the lifestyle pullout of The Edge Malaysia, Issue 752, April 27-May 3, 2009