The Edge, 20 April 2009
Cultural Index: Inner Expressions
Czech photographer Michal Macku's works explore self and notions of reality
Czech photographer Michal Macku's contemporary photographic work can best be described as haunting and morbid. At the Wei-Ling Gallery in Brickfields where his exhibition, Glass (and) Gellages, is on display, there are stark images of overlapping bodies, marred torsos and disfiguration done on glass and paper, and they speak to me of darkness, despair and brokenness. I couldn't help but wonder what tortured soul lay behind these works.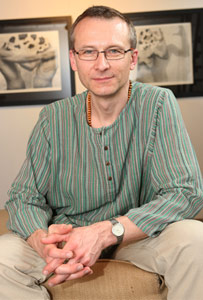 I meet Macku at the gallery for this interview, and whether he is, in fact, a tortured soul I was not able to ascertain for sure. One thing the soft-spoken photographer does embody, however, is the expression, "still water runs deep". In calculated, heavily accented English, he reveals that those broken bodies are his, and that self-exploration is a major thread in his symbolic works.
"It's mostly my own inner space or spiritual space, but I believe that everything is connected," he says. "When I'm exploring my own spiritual inner space, I explore the whole world's spiritual space as well because everything is connected — I feel it this way. I try to do it this way because it's a kind of bridge between our inner and outer — it's our body and physical expression of our inner being. I reduce all to only the body, the closest physical thing between my own inner being and the outer world. So I don't use anything else, just the body, except for some simple spaces."
The manipulated images and photo montages are done using a technique called Gellage, one that Macku developed 20 years ago and which has cemented his name in the history of contemporary photography. To put it in the simplest terms, the laborious technique involves transferring exposed and fixed photographic emulsion onto paper. This transparent plastic material allows Macku to manually reshape and reform the original image to give it a new reality.
He explains, "The photos are a kind of reflection of reality, and I modify it. In a philosophical way, it's splitting the reality to a new level, a new space and changing it. I take a piece of reality and give it new life."
The 30 old and new works in the exhibition consist of Gellages, carbon prints and glass works, the last of which Macku only started working with in the last three years or so. These glass pieces are undeniably the most fascinating works of the lot. Several panes of glass, each with a carbon print, are placed on top of each other, giving the works a 3D effect and a level of depth that is sublime.
This idea of manipulating reality to give it alternate meanings came out of Macku developing the Gellage technique. He shares, "The first time I saw the released emulsion from fixed photography, I was completely shocked when I saw the figure moving in the water (where it's soaked) — it's alive again. When you photograph something, you cut off the time. It's a frozen moment, but I put this picture in the water and it comes alive again.
"I was really surprised at how small differences of the shoulder (for instance) changes its meaning. I realised it was the right way for me to transform so-called normal photography because I can underline the posture of hands, the position of body, combine more figures together in new relationships and so on. It's still interesting to me (even after 20 years)."
Macku revels in the entire process of making his works, which he says is where he derives "real satisfaction" from. "I never hire professional models to photograph. I use my own body because for me, the process is important — from the beginning to the end. All these details, steps, imprints add to the final energy of the work. If I do photograph other people, I have my reasons, and they are people I have a relationship with."
Macku describes his artistic process as one that is natural and spontaneous. "The inspiration comes to me, not a very concrete idea, but it comes and I try to express it. I think it's a message for me from my subconscious to my conscious. I am more and more sure after so many years that 99% of our behaviour is directed by our subconscious, and it's only our illusion that we are free beings. We act much more intuitively and are led by our subconscious ideas. We think we are free but this is not true. But I just realise it and I give it a space for this process. Usually I understand the meaning of my works only after a time."
This journey of self-discovery is a lifelong one, says Macku. "It's a never-ending process. It's difficult to put to words — it's so much more than living through the feelings. My works are very personal. I hope it (does not come off as) egoistic, but it's my own expression."
Michal Macku's exhibition, Glass (and) Gellages, is on display at Wei-Ling Gallery, 8 Jalan Scott, Brickfields, KL, until April 30. Gallery hours are noon to 7pm (Mon to Fri), 10am to 5pm (Sat). Admission is free. Call (03) 2260 1106/7 for more information.
This article appeared in Options, the lifestyle pullout of The Edge Malaysia, Issue 751, April 20-26, 2009