The Star, 16 November 2005
Exhibits explore bond between owner and pet
THE exhibition, Instantly Involved, not only showcases Debra Tan's work as a photographer but through the exploration of the special bond between owners and their pets.
It is a platform to raise awareness and money for the Society for the Prevention of Cruelty to Animals (SPCA).
The project was conceived by Wei-Ling Gallery upon seeing Debra's evocative portfolio of black-and-white photographs.
Debra is reluctant to think of herself as a full-fledged photographer as she primarily uses photography to explore relationships and it is that, which interest her.
"For me, photography is not about the camera but the subjects and their reaction to the context and me. Through the lens, I am involved with them and them with me. Together, we are continuously moving and changing – nothing stays the same. Yet in an instant, the mood can be captured, frozen in a photograph and we are all instantly involved forever," she said.
So spurred on by Wei-Ling and Debra's desire to give back to the society, Instantly Involved was born with the objective of sustainable fund-raising through art.
A year of collaboration with 24 like-minded owners ensued, resulting in an intimate exhibit of 48 black-and-white prints and a limited edition 2006 wall calendar sponsored by ABN Amro Bank featuring all the dogs and cats, which have participated in this project.
This is Debra's first solo exhibition.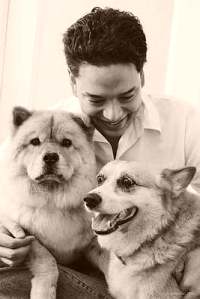 Apart from the owners and the sponsor who have been impressed with her work, Wei-Ling is confident that the show will be well received.
"The experience as you view the exhibition is like that of an unintentional voyeur who has just stumbled upon a private moment. You are treated to an intrusion, which prompts you to wander into the minds of the owners and even those of the dogs and cats, like how did their paths cross? What is the bond? What is their story? You are left with just a taste, wanting more information but there is none – it is left to your imagination and before you know it, you are instantly involved."
However, despite the uniqueness of each of these relationships, the underlying message is clear – cats and dogs are not just toys, but a commitment. They are not just cute, they have feelings too.
Established in 1958, the SPCA provides temporary shelter to unwanted animals – these are usually pets that are no longer desired by their owners.
The SPCA receives more than 1,100 animals monthly in Selangor alone, reaching some 13,000 annually.
The shelter remains constantly challenged by a shortage of space and limited funds.
As such, Wei-Ling and Debra not only invite you to get involved as a voyeur but hope that you will be inspired by the photographs to become truly involved by buying the 2006 calendar.
The calendar is priced at RM38 each and 100% of this will go directly to the SPCA thanks to the generous sponsorship of ABN AMRO Bank.
The exhibition and calendar will open on Nov 26 at Wei-Ling Gallery and will run until Dec 6.
The limited edition calendars will be sold at the SPCA and the gallery at 8 Jalan Scott, Brickfields, 50470 Kuala Lumpur. Gallery hours are noon to 7pm, Monday to Friday, weekends by appointment. For details, call 017-887 7216 or 019-604 1815 or 03-2260 1106. Alternatively, visit www.townhouse-gallery.com