New Straits Times, 11 December 2006
From Kuala Lumpur to Karachi
by Su Aziz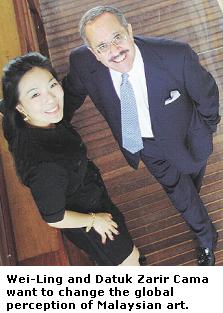 The works of 18 of Malaysia's most progressive artists go on display for the first time in Karachi today. SU AZIZ finds out the significance of this exhibition.
ONE is a bank that prides itself on its global/local approach — after all, it thinks of itself as the world's local bank — and the other is an art gallery that is making a name for itself by showing works that speak both to the head and the heart.
Together, HSBC and Wei-Ling Gallery are making history: they took the works of 18 Malaysian artists to Karachi, Pakistan. These pieces, representative of Malaysia's evolution in the contemporary art world, will be exhibited for two weeks in the gallery of world-renowned Pakistani sculptor Amin Gulgee.
Does he sound familiar to you? Well, Gulgee has had two successful exhibitions here in Kuala Lumpur. Bothof which were in galleries owned by Lim Wei-Ling. Now do you see the connection?
Wei-Ling is also the curator of the 18@8, Kuala Lumpur-Karachi project. The title was coined from the gallery's address and the number of artists involved in the project.
"They are whom we felt best represented our gallery and what we believe in," Wei-Ling explained when I caught up with her a few weeks before the landmark Karachi show. "Also, the fact that they have evolved in the past year …not drastic changes but little ones. And that evolution or change was important during the selection process."
The chosen ones are: Yusof Ghani, Anurendra Jagaeva, Phuan Thai Meng, Chan Kok Hooi, Bayu Utomo Radjikin, Hamir Soib, Ahmad Shukri Mohamed, Umibaizurah Mahir, Ahmad Fuad Osman, Choy Chun Wei, Yau Bee Ling, Izan Tahir, Sabri Idrus, Hamidi Hadi, Multhalib Musa, Ivan Lam, Chin Kong Yee and Juhari Said.
But, of course, nothing would have been possible without funding, which is where HSBC In The Arts comes in. Support has also come from International Industries Limited and Arif Habib Investments Limited which are two established Pakistani corporations.
But what brought Wei-Ling and HSBC together was, as I found out, a simple thing. The quest to change the global perception of Malaysian art. If indeed the world out there even knows about Malaysian art.
"They don't even know we have artists here producing contemporary work …many people out there think Malaysia is only about pretty padi fields and water colours," said Wei-Ling ruefully.
"That is what we would like to help do," said Datuk Zarir J. Cama. So the education begins in Karachi, "Yes," continued Cama, "I just thought, if you are an intelligent Malaysian artist, it doesn't matter where you exhibit as long as your works are shown out of Malaysia."
And to the world, of course.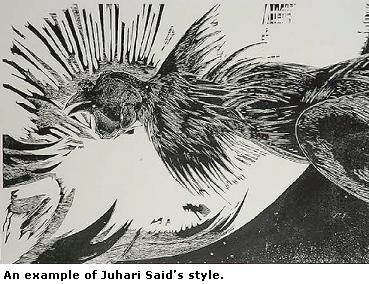 Cama can be dubbed the godparent of Malaysia's art world. Hailing from India, he moved here to assume the role of HSBC's (Malaysia) CEO four years ago and has single-handedly ensured that HSBC In The Arts "creates more and more interest (in the arts among Malaysians). It is what we encourage. The worst thing for an artist is to produce works of art that nobody sees.
"In the past four years I have been here, I have noticed a change (in Malaysia's art scene). There is progress (in the arts scene) and more interest coming from the general public. Malaysians are maturing and Malaysian artists are interpreting that in their art."
HSBC worldwide has always supported the arts but HSBC In The Arts is unique to Malaysia alone. The difference between HSBC In The Arts' involvement in the arts as opposed to that in other corporations?
"The scope of what we do is very varied. We try to take it across the spectrum from writing for theatre, for instance, to dance, to fine arts, to drums …," Cama explained.
Elizabeth Wee, HSBC Malaysia's head of Group Public Affairs, interrupted: "We do not just focus on sponsorship. We nurture what talent already exists."
Cama nodded in agreement, "Basically, we are here for them (the artists)… to help them continue with their skills," he added.
Elizabeth has been buying art pieces from galleries showcasing young, emerging artists, "and by young, we mean inexperienced but with potential, vision and focus", she explained and added with a smile, "and he (referring to Cama) controls my art buying budget!"
These art pieces are hung all over HSBC branch offices. "I really think our staff have actually enjoyed the experience (of real artworks) and we did away with the tired prints that we had hanging on those same walls," said Cama with pride.
"Elizabeth scouts for art pieces from various galleries while observing the various other art projects we are involved in," explained Cama further. Although Elizabeth claimed to not be an expert in the art field, she certainly is soaking up the experience and acquiring a keen eye as HSBC In The Arts' keeper.
"We'd support and nurture any aspect of the arts, as long as they are apolitical, non-racial and non-religious. We'd like to be a mainstay entity in the arts world. So that when people look at our logo, they immediately link it with HSBC In The Arts," explained Elizabeth.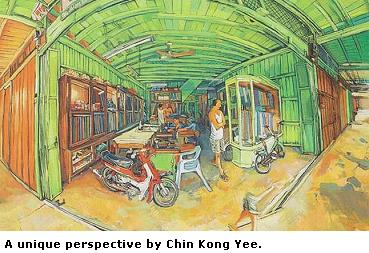 Meanwhile Wei-Ling intends to keep 18@8 an ongoing project with biennial exhibitions abroad and HSBC In The Arts intends to move "towards individual grants," said Elizabeth quietly.
Just before our interview came to a close, I noticed Cama scrutinising a couple of paintings hanging on the gallery walls. When asked what particular style of art he favoured, he said, "I am not somebody who goes for a particular name but when I like a piece of art, then I like it but if I have to say… then my favourites are the Impressionists." After some more thought, he added, "I like portrait art as well."