The Star, 12 July 2010
July's art exhibitions galore in KL!
by Willy Wilson
This July, two highly anticipated art exhibitions are held in two different galleries in Kuala Lumpur. Regional artists showcase at National Art Gallery for a fund-raising exhibition, while a pair of young artists share their views on environment in Wei-Ling Gallery. StarProperty.my reports.
ARTIANGLE 2010 – National Art Gallery
A total of 128 Southeast Asian artists, which consists of 84 Malaysian artists, 20 Indonesian artists, 14 Filipino and 14 Singaporean artists each, are showcasing their works at National Art Gallery Kuala Lumpur in a major exhibition entitled ARTIANGLE 2010.
Without a specific or uniform theme, the annual event aims to increase the appreciation of art in this region, as well as to encourage dialogue between regional artists.
Among the most talked-about Malaysian reflective pieces are Bayu Utomo Radjikin's self portrait Untitled II, Nazmi Ismai's portrayal of the late Yasmin Ahmad in In Memory and Sivarajah Natarajan's portrayal of veteran dancer Ramli Ibrahim in Like the Gentle Breezeodssi.
Some local artists bring a sense of humour to their pieces, as evident in Janiz Chan's comical pop art-themed painting entitled Muse, and a humorous piece by Shia Yih Yiing entitled Oh dear! Oh dear! I shall be late too! Meanwhile, Mohammad Faez Hamzah's Young Man with Bowl of Fruit is enigmatic, reflective, and yet humorous.
Indonesia's Suharmanto's oil painting, Menjerit Menyempit, Artadi's Super Consumer and Luddy Astaghis' Kananku Besar Kiriku Besar draw attentions for their philosophical and insightful depiction of the country's social setting.

One simply can't discuss about the Philippines without touching the topic of politics. It isn't surprising, then, that people are drawn into Michael Alvin R. Adrao's social and political critique piece, Influenza Americana. However, politics isn't the only topic the Philippines has to offer. Take, for instance, another favourite piece, The Wanderlust by Carlo Acerden Gabuco. The oil painting illustrates the upper half of an androgynous figure, which exudes unfathomable mystery.

The collection from Singaporean artist seems to be most uniform. A common theme of cultural quest and societal weariness is depicted perfectly by Zul Othman's Mental Block, Gerard Leow's Anthrology: Greatest Hits (1985 – 1991), Safaruddin Abdul Hamid's Hoss and Aiman Hakim's quirky Power Ranger-themed piece, Just Another Side of Yellow.

ARTRIANGLE is open to public from July 7 to August 7, 2010.
Venue: Gallery 3A & 3B, National Art Gallery of Malaysia, Kuala Lumpur
Tel: +603-4025 4990
Heartland – Wei-Ling Gallery
Wei-Ling Gallery presents yet another impressive exhibition, featuring Chen Wei Meng and Wong Perng Fey. The exhibition, entitled Heartland, captures the emotion of one's journey through artistic depiction of natural landscapes. An inherent feeling of tranquility is prevalent in all the pieces showcased.
According to the curator, Chen and Wong are friends who share the same views about the desecration and disintegration of their beloved environment. Ironically, their art does not reflect this as their works of the landscape are diametrically opposite to one another in form and technique.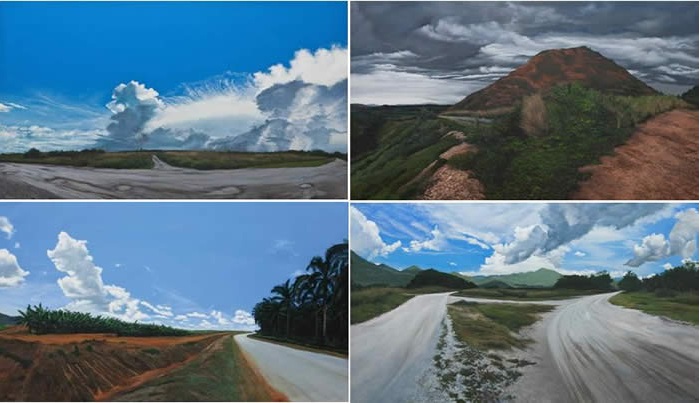 While Chen is a champion in technical painting that requires a lot of details, Wong is more of a storyteller who plays around with noticeable metaphors.
Chen's melancholic works are inspired by his exploration in the rugged terrain of Ulu Selangor. Wong's works, on the other hand attempt to capture the space in between the passing of time and place. He places the viewer as the passenger in a train looking out through a dirty window that separates us from the landscape beyond. His works evoke a feeling of coming to terms with loss of time and place.
Heartland is open to public from July 5 to July 31, 2010.
Venue: Wei-Ling Gallery, No.8 Jalan Scott, Brickfields, Kuala Lumpur.
Tel: +603-2260 1106/07
Web: www.weiling-gallery.com