Dawn Gallery
30 December 2006
Let's say hello to Asian art
by Salwat Ali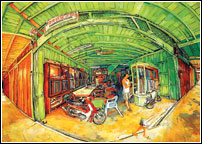 Moving from a position of insularity towards interaction and openness our local art galleries have now begun hosting shows of contemporary art from other Asian countries with relative frequency. The most recent Asian art on show was the first ever exhibition of contemporary Malaysian paintings and sculpture at Amin Gulgees Gallery recently. Titled 18@8 Kuala Lumpur – Karachi, the exhibition, a project of Wei Ling Gallery was organized by curator Lim Wei Ling in collaboration with Amin Gulgee.
This exhibition will impact viewers here on many levels. It is a revealing glimpse of the contemporary Malaysian aesthetic, its artistic merit and temperament and its relationship to its regional environment as well as its reference in the global context. Seeing works of Malaysian artists in the flesh, artists here can analyze and assess technique and form and scale with greater accuracy, identify motivational forces, indulge in comparative study and locate and determine the levels of their own aesthetic expressions.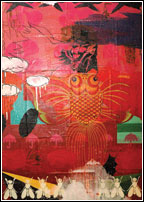 As curator of the current exhibition Lim selected 18 Malaysian artists who best demonstrate the direction in which contemporary Malaysian art is now moving. Her choices centered on artists born between 1950 and 1980, as this generation she feels, is truly representative of progressive Malaysia. The art on show was diverse and eclectic, a potpourri of oil on canvas, mix media, alternative materials, printmaking, ceramics, sculpture and a video/performance. The collection was engaging not just because it was visually delightful but also because of the parallels it struck with our local art scene.
In the historical perspective Malaysian art has been subjected to the phenomenon of post colonial confusion so peculiar to our art history too. For centuries the territory has been home to a variety of different ethnic, cultural and religious communities and along with an intermix of Muslim, Indian and Chinese cultural influences Malaysia is also grappling, like us, with issues of tradition versus modernity, impact of political Islam, urban rural divide, racial identity etc. Their art has also emulated the west or has been subservient to the western notion of 'Art.' In the 50s and 60s the dominating mode was abstraction which can be construed as an acknowledgment of an international avant garde dictated by American abstract Expressionism. In later decades of political stress anxieties related to 'identity' provoked experiments with indigenous vocabulary. The new art was now referenced from the social and cultural realities peculiar to Malaysia. In the 80s and 90s various kinds and forms of art practices revived or continued. Apart from new forms of expressions such as Installation, Video Art and Performance Art, the artworks included abstract and figurative painting, and various forms of sculpture (which were not too perceivable before this time). Young artists who emerged at the end of the 80s and in the beginning of the decade broke clear from the bounds of convention. In their "post-Modernist posturing" these artists not only showed confidence in dealing with a wide range of socio-cultural issues and problems, they also displayed critical and questioning stances towards models and paradigm from the West.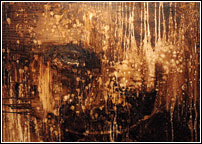 Lim Wei Ling an enthusiastic advocate of Malaysian art spoke about the famed Yusof Ghani and his role in shaping the new art in her country. Born in 1950 he is one of the most popular artists of his generation. His return to Malaysia from America in early 80s brought a new surge of energy to the local art scene through vibrant paintings of radically altered figures. His forceful 'dancing lines' and gestural strokes with fiery colours combine to create a powerful visual experience. Influenced by the Abstract Expressionists' interest in archetypal figures and shamanic symbols, Yusof made a distinct mark on Malaysian art. The anchor piece of 18@8 was Yusof Ghani's 'Wajah" which expresses the artists deep concern for social issues and historical events.
Lin further disclosed that the other strong influence in Malaysian contemporary art was that of the Matahati. A collective of young radical Malay artists established in 1989 with seven original founding members, Matahati since then has evolved into its current group of five who are now contributing to the new Malaysian art scene through a resurgence of activities such as building bridges within the regional art scene, organizing artistic exchange programs and initiating residency projects.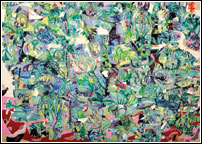 "The Portrait" on show at Amin's Gallery is by Bayu Utomo Radjikin, a Matahati artist. It dwells on self reflection and inner compulsions. Unlike the somber stance of " The Portrait" Ahmed Shukri's very vibrant "Goldfish" is another painting about life's journey and unfulfilled ambitions.
A painter of stories Anurendra Jegedeva's "Fat Rangda Coming out" is a comic piece where he uses the headdress as symbol of power and lack of it to weave a sincere and funny version of the truth. Hamir Soib's "Sepat oh Sepat" addresses the issue of environmental pollution. The Sepat is a common silvery, translucent freshwater fish found in Malaysia which may soon, because of excessive pollution, mutate into an ugly unrecognizable species or just become extinct.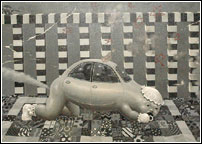 Other interesting works included "Finding a way" part of the Mind Map series by Izan Tahir in which aerial images of landscapes are equated with the labyrinthine journey of life and the need to find an escape. Artist Choy Chun Wei also taps the mental space with his "Living Momento Series." Embodiments of crowded city structures and urban clutter like hoardings, signboards etc he paints mosaic like grids to define a complex inner space.
By no means high end art the Malaysian collection was nonetheless visually attractive and technically engaging, more so because one felt their art speak was familiar in terms of issues and concerns. It is easy to identify with conceptual and technical similarities and very interesting to view new takes and approaches to them.