The New Sunday Times Magazine
Spin City: Witty Commentary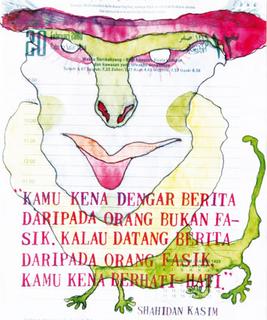 MALAYSIA – 365 Days of 2008 is a compilation and documentation of the year 2008, as seen through the analytical mind of socio-political Malaysian artist Paiman (Nor Azizan Rahman Paiman).
Born in Malacca in 1970, Paiman received his art education in both Malaysia and Britain and attained a Master's in Fine Arts from the Manchester Metropolitan University in 2001.
He's been exhibiting widely both in Malaysia and the international arena since 1991. Some of his outings included the "First Fukuoka Asian Art Trienniale 1999", Japan, and at the "Asia-Pacific Triennial of Contemporary Art (APT5)" Queensland, Australia in 2007. You can also catch some a selection of Paiman's distinctive works in the collection of the Queensland Art Gallery (QAG) in Australia.
Over the years, Paiman has made a name for himself with his unique imaginary, caricatures, which he juxtaposes against statements by important Malaysian figures in a witty commentary on Malaysian life.
He's often said that he considers himself a "backdated reporter" and that "everything changes in the world, and more often than not there are issues or incidents that we have forgotten or ignored".
For this exhibition, he spent the whole of 2008 going through all the major papers of the country on a daily basis to extract one statement that best reflected the sentiment that day. Armed with this statement, he stenciled the quote onto the corresponding page of an Islamic diary, before rendering his wonderful fantastical figures over them, ending up over the course of a year with a diary filled with the "essence" of 2008.
Where: Wei-Ling Gallery, No 8, Jln Scott, Brickfields, KL.
When: May 11-June 2, noon-7pm (Mon-Fri), 10am-5pm (Sat). Call 03-22601106/07 or visit: www.weiling@weiling-gallery.com for info.