New Straits Times, 14 May 2006
Taking a second look at childhood
by Dennis Chua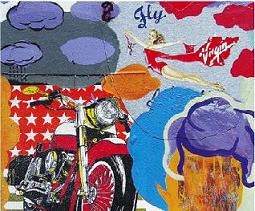 "TOYS" brings visitors back to the carefree days of their childhood. Its message is that toys are used as a form of escapism and to influence people towards a certain agenda.
Husband and wife artists Ahmad Shukri Mohamed and Umibaizurah Mahir examine the multi-faceted functions of toys in this exhibition at the Wei-Ling Gallery in Kuala Lumpur.
They bring to the board their interpretation of toys in ceramics and clay, and through paint and canvas.
Umibaizurah and Ahmad Shukri urge visitors to look past the surface and question the underlying significance of the seemingly obvious. They examine in-depth the multi-faceted functions of seemingly innocent play-things, the politics and psychology surrounding them.
Born in Kelantan in 1969, Ahmad Shukri was one of the co-founders of the Matahati group of artists. Graduating with a Fine Arts degree from Universiti Teknologi Mara in 1992, he has exhibited his works around the world.
He revels in forming multi-layered collages with oil paint, industrial crate plank, aluminum foil, canvas, paint and paper. Through his signature layering of images of popular culture, Ahmad Shukri's bold mixed media on canvas collages questions the "messages" these images are trying to impart.
From Mickey Mouse to Bart Simpson, he invites visitors to consider how these apparently innocent images send subtle, politically loaded messages to children.
He takes a look at globalisation and observes that even when it comes to having fun, a "higher force" controls consumers.
Ahmad Shukri maintains that the only constant in his art is change.
Born in Johor in 1975, Umibaizurah graduated with an honours degree in ceramics from Universiti Teknologi Mara in 2000. Her clay pieces, adorned with unusual objects, explore complicated issues that relate to human perceptions.
They are a sensitive blend of clay, coloured glaze and decal print, that have been fired together to create a surface that is textured, smooth and glossy at the same time.
Both Ahmad Shukri and Umibaizurah participated in the World Wide Fund for Nature Malaysia (WWF-Malaysia) Art For Nature exhibition three years ago.
The exhibition pioneered in 1997 was aimed at raising awareness of the need for nature conservation in Malaysia. It was held at Rimbun Dahan in Kuang, Rawang, Selangor.
Ahmad Shukri's recent exhibitions include Takung at the National Art Gallery in 2005, Paradise Lost/Paradise Found at Rimbun Dahan in 2004 and "Identities: Who We Are" at the National Art Gallery in 2002.
His works have also been exhibited at the Kelantan State Gallery in Kota Baru, the Fukuoka Art Museum in Japan and the World Bank in Washington DC, the United States.
Umibaizurah's recent exhibitions include Takung, Paradise Lost/Paradise Found and Wahana at the National Art Gallery in Kuala Lumpur in 2003.
The exhibition at the Wei-Ling Gallery, 8, Jalan Scott (Brickfields), Kuala Lumpur, will end on May 31.