Zero Degrees: Arts & Culture
18 AGAIN | When Wei-Ling Gallery inaugurated its 18@8 exhibition in 2005, the main aim was to give the public a taste of the kind of contemporary Malaysian artists that it represents. Another objective was to give Malaysian art greater exposure outside the country, leading to the second 18@8 being held in Karachi, Pakistan last year.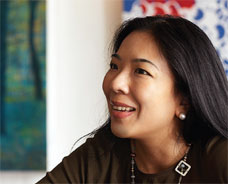 "The turnout and response was phenomenal. Working with Amin Gulgee was great, as he is considered art royalty in Karachi and this assisted tremendously in generating interest," comments Lim Wei-Ling.
The 18@8 exhibition returns home this year to provide a broad overview of the current state of the contemporary Malaysian arts scene and what to expect in the coming year. Chances are visitors will see artists and/or mediums previously unknown to them.
The 18 artists selected this year, and for subsequent years, will be based on the criteria that they are doing new things or have seen an evolution in their careers, such as winning an award or participating in an exhibition or residency programme abroad.
The show does not abide by any theme and artists are informed of their selection four to five months before the show. She states, "I want each and every artist to produce a major work, almost a masterpiece of sorts, that best represents them and what they do. I want to create a competitive spirit within the industry, as I feel that it propels people to do greater things."
Lim has a dislike of artists who bank on a hit her to winning formula and regurgitate works that are variations of a past hit. She elaborates, "A chef can bake a cake that everyone likes to eat over and over again, but you cannot do that in art! I feel that art is very much linked with the artist and if it is sincere, it should move in tandem with that artist's life. Generally speaking, no one's life remains the same; instead we grow as we are exposed to new things."
The gallery places great emphasis on artists who are willing to break away from the conventional and take risks in their work. "We only work with serious artists," Lim stresses. "We make sure that whomever we represent is committed and dedicated to their art. We research them thoroughly in order to gain more knowledge about them and find out how they arrived at this point in their life. To me, a visually exciting work of art fails to matter if it has no direction or there is no intellectual thought behind it."
The 18@8 exhibition will run until November 28, 2007 at
Wei-Ling Gallery
No. 8, Jalan Scott, Brickfields,
50470 Kuala Lumpur
T +603 2260 1106
W www.weiling-gallery.com.
Artists showcasing works include Bayu Utomo Radjikin, Chan Kok Hooi, Chin Kong Yee, Ivan Lam, Kim Ng, Yau Bee Ling and Yusof Ghani. The gallery is open from 12noon – 7pm (Mondays – Fridays); weekend viewings are by appointment