– Amin Gulgee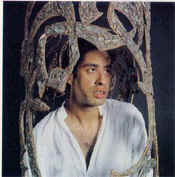 Amin's work speaks for itself – it can be seen and felt. But Amin the man is seldom accessible. In the following interview, Amin speaks passionately about what concerns every south Asian today – the concern of surviving and going through life as a thinking human being.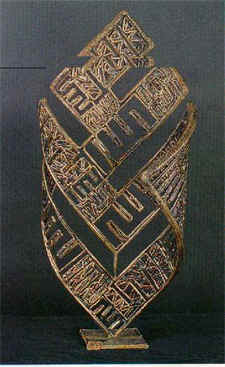 God for me is everything – it is me –– it is you –– it is the wind outside – it is the light we see – it's everything horrible and everything wonderful – I don't see any separations – I see God in just about everything – God for me is the process of Life and the way things are – God for me is also Chance – the element in our lives that we do not control. The three most important paths of our life are birth, death, and love – all three are controlled by chance. One of my sculptures is called Chance – a DNA molecule with the word Allah inscribed on it – for me that is God. What's beautiful about Islam is its submission to God and that there is a direct link between God and a person – nothing comes in between – you create your own balance between the divine and you – or between chance and you.
God has created everything and everybody. All religions teach us to be good, to be happy, and to achieve a balance – that is humanism. All religions have basic similarities. My father is a great collector of antiquity and as a child, I would touch his Gandharas and Krishnas and talk to them – my understanding of them was not in a ritualistic way – I reacted to them as a child. I related intuitively to the Boddhisatvas. When I came back from college I wanted to recapture them and create them in my own image. When I do a sculpture of the Buddha – I am not a Muslim doing a Buddha – I want to belong for that moment to whatever I am creating. Today, there is a need for intellectuals to interpret religion. If one is happy, one does good things; if one is unhappy, one does bad things -–simple-minded perhaps, but that is the essence.
On his life and work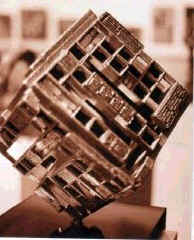 I grew up in a house with paints and brushes but I had no hands-on guidance from my father. Studio art was the last thing I wanted to do. In fact my parents actively discouraged me not to become an artist. They feared that I'd have to struggle.
It's funny that I became an artist – I am non-romantic about an artist's lifestyle. For all the pleasure and joy of work, one has to survive on one's work. My life has been a series of accidents. I was in college, doing three majors in Art History, Architecture and Economics at Yale. Architecture was great – I got to paint and draw and create models – and at Yale you could just about do anything. In my final year at Yale I had to choose one major for my thesis. I hated Economics and thought Art History would be more interesting and challenging. My dissertation was on Mughal Gardens with special focus on Shalamar Gardens in Lahore. After my graduation I thought I'd try my hand as an artist and if I did not succeed, I'd go back and do an MBA.
I had my first show in Karachi – and then I went to New York to live there as an artist. That was a difficult time. I had to go door-to-door with my jewellery pieces – art jewellery and gallery-wearable art. I had some successes. Initially my jewellery was very large – it was very unwearable – in New York it became scaled down. Basically, it is a sculpture with a hole. Whenever I get stuck on a larger piece, I switch scale and I move to a smaller piece. I enjoy making jewellery. Then I came home to Karachi – wanted to do larger work.
I began experimenting and working with metal. Copper and bronze are the only glorious metals that exist – they stay forever – I like that permanence – not that I seek any immortality in my work – just the fact that they will remain.
I am trying to bring Islamic calligraphy into my work. Islamic calligraphy interests me in two ways – on an intellectual level and also on an emotional level. Intellectually – because of the concept of God as an abstraction – like a geometric pattern which goes on and on and emotionally because I was born a Muslim.
On his interests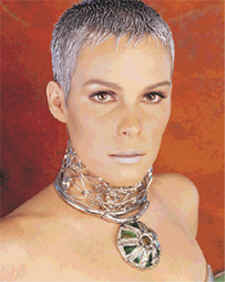 I love Camus, I love the existentialists – I am not a great reader of poetry – I read anything that comes near me. When I was young, I was an extreme loner – in fact some considered me retarded – my idea of weekend in Karachi was checking out 5 books. Reading has always been my escape. I'll read Stephen King to Manto.
I used to be in a dance troupe in college – I just love dancing. I learnt a bit of kathak and Bharat Natyam in Karachi – just for six months – nothing serious. My sister is a good Bharat Natyam dancer. In fact the most famous Kathak dancer in Pakistan today is a man – Fasi – he is brilliant.
I like travelling but I like people more than I like places. I am not a great sightseer. I am a voyeur. I love looking at people. I can sit in a café and look at people for hours.
What I really want to do is go to Sri Lanka – I have never been there – I would like to go to Sri Lanka and sit there on a beach for a week watching the stars, the sea, the colours, and feeling the wind– that would be my millennium gift to myself. I'd also like to go to Bangladesh one day.
The two artists I admire most are my father and Amrita Shergill. I find Amrita Shergill's paintings really close to me – I feel a great connection with her work.
On the essence of life
Love is the most important part of being human – love is what defines humanity. I look at my life and feel so grateful that I love. Nothing else matters. We are here for such a short time – the only thing we should be taking away from this earth is love from people.
On bringing South Asia closer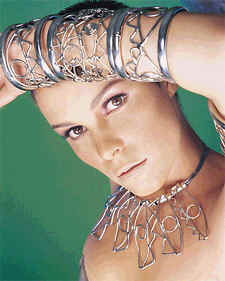 There should be more communication within the subcontinent. I am more familiar with things happening in New York and Washington, than I am with what's happening in Bombay or New Delhi. We should start looking within ourselves, we should celebrate ourselves. I think colonisation has made a profound impact on the subcontinent and it is time we discovered our own heroes – up till now everything that has been considered valid, at least in art, has been coming from the west – we study western art, we revere their heroes – it is about time that we start celebrating ourselves – as far as contemporary art is concerned, there needs to be an interaction among ourselves – it should be done without embarrassment – done with a sense of confidence.
In the last fifty years many walls have crumbled and come down – I hope that happens in my region too. I hope our priorities go toward education and welfare of our people. I think it will happen – there is no other way it can be. Maybe not in my generation – perhaps in the next – but it will happen.